Coconut Battered Shrimp
Print
Category
Shrimps (Fry)
Thematic No thematic
Source SHARWOOD'S
Evaluation
☆
☆
☆
☆
☆
Recipe pictures
You're cooking one of our recipes? Share the pictures of your culinary masterpiece on our website for a chance to win an awesome apron from Recipes Quebecoises. There will be a draw every month.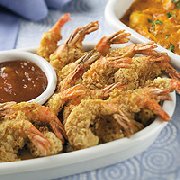 Ingredients
1/3 cup all-purpose flour 75 mL
¼ cup unsweetened ?aked coconut 50 mL
3 Tbsp cornstarch 45 mL
1 tsp curry powder 5 mL
½ tsp cayenne pepper 2 mL
2 eggs, lightly beaten 2
1 lb tiger shrimp (21 - 25 count), peeled and
deveined, tails left on 500 g
1 bottle (946 mL) MAZOLA® Corn Oil
(approximately 4 cups / 1 L) 1
½ cup SHARWOOD'S Major Grey Mango Chutney 125 mL
Preparation
In a flat dish, mix together ?our, coconut, cornstarch, curry powder and cayenne.
Pour oil into wok or deep heavy saucepan. Heat to 350° F (180° C).
Using shrimp tails to hold onto, dip shrimp in egg, then ?our mixture. Repeat dipping in egg, then in ?our again. Set aside.
Deep-fry 4 shrimp at a time, 1 to 2 minutes, until golden brown and cooked through. Drain on paper towels. To serve, spoon chutney into small bowl and serve as a dip for shrimp.
Cook commentary
Makes 21 to 25 shrimp.
Prep time: 15 minutes
Cook time: 15 to 20 minutes
Per shrimp: 58 Cal; 3.5 g Pro; 2.3 g Fat; 5.7 g Carb; 0.3 g DFib
Personal notes