Salad with Triple Cheddar Fruit Kabobs
Print
Category
Fruits and Grapefruits
Thematic No thematic
Source CHEESE MAKERS
Evaluation
☆
☆
☆
☆
☆
Recipe pictures
You're cooking one of our recipes? Share the pictures of your culinary masterpiece on our website for a chance to win an awesome apron from Recipes Quebecoises. There will be a draw every month.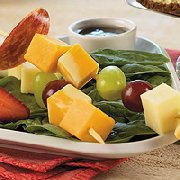 Dressing
2 Tbsp balsamic vinegar 30 mL
1 Tbsp maple syrup 15 mL
½ tsp Dijon mustard 2 mL
1/3 cup vegetable oil 75 mL
Salt and pepper, to taste
Kabobs
8 cups baby spinach (or Boston lettuce leaves) washed & dried 2 L
CHEESE MAKERS Mild Cheddar Cheese
CHEESE MAKERS Marble Cheddar Cheese
CHEESE MAKERS Old White Cheddar Cheese
8 bamboo skewers
1 apple or pear, cut into small wedges
16 grapes 16
¼ cup toasted chopped walnuts (optional) 50 mL
Dressing
Whisk together vinegar, maple syrup and Dijon. Slowly pour in oil, whisking continuously. Season to taste. Set aside.
Kabobs
Divide greens amongst 4 dinner plates.
Cut cheeses into ½-inch / 2 cm cubes, making a total of 32 cubes, Thread each skewer with 4 cubes of cheese, 2 wedges of apple or pear, and 2 grapes, alternating the cheese and fruit.
Place 2 skewers on each salad. Drizzle with dressing. If desired, sprinkle with walnuts.
Cook commentary
Makes 4 servings.
(Prep time: 15 minutes)
Per serving: 697 Cal; 31.7 g Pro; 56.4 g Fat; 19.5 g Carb; 3.8 g DFib
Personal notes