TURKEY STUFFED WITH CRANBERRIES AND MAPLE SYRUP
Print
Category
Whole turkey
Thematic No thematic
Source Federation of Quebec producers
Evaluation
☆
☆
☆
☆
☆
Recipe pictures
You're cooking one of our recipes? Share the pictures of your culinary masterpiece on our website for a chance to win an awesome apron from Recipes Quebecoises. There will be a draw every month.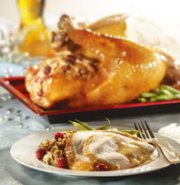 Ingredients
Stuffing
450 g chopped turkey (1 lb)
375 ml fresh or unfrozen cranberries (1 1/2 cup)
375 ml grated potatoes (1 1/2 cup)
2 French shallots, chopped
3 garlic cloves, crushed
30 ml (2 tablespoons) fresh, chopped herbs (rosemary, savory, thyme, sage, etc.) or 10 ml (2 teaspoons) dried herbs
125 ml maple syrup (1/2 cup)
Salt and freshly ground pepper to taste
Turkey
1 whole turkey or young turkey of about 3.5 kg (7 3/4 lb)
250 ml chicken stock (1 cup)
250 ml white wine (1 cup)
125 ml maple syrup (1/2 cup)
Preparation
Preheat oven to 160 °C (325°F).Combine all stuffing ingredients.Put turkey in a roasting pan, breast up and fill the cavity with the stuffing. Attach the thighs using a piece of string.
Mix the rest of the ingredients and pour over the turkey. Cover and roast for about 2 hr. 20 min., or 40 min. per 1 kg (2.2 lbs) until the meat comes easily off the bones. Baste frequently.
Remove the cover for the last 30 minutes of roasting to brown the skin.
Let rest for 15 min before carving. Serve the turkey with the stuffing and cooking juices.
Cook commentary
PREPARATION TIME:30 minutes
COOKING TIME:3 hours 45 minutes
SERVINGS:8

Personal notes