Recipe pictures
You're cooking one of our recipes? Share the pictures of your culinary masterpiece on our website for a chance to win an awesome apron from Recipes Quebecoises. There will be a draw every month.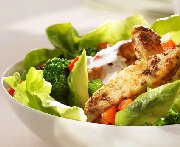 Ingredients
2 chicken breasts à la Dijonnaise, cut into strips
30 ml (2 tbsp) olive oil
1 Boston lettuce
1 broccoli, cut into florets
1 ripe avocado
½ lemon, juice only
½ jalapeño pepper, seeded and finely diced
½ red bell pepper, diced
125 ml (1/2 cup) cooking cream 15% m.f.
30 ml (2 tbsp) cider vinegar
To taste 5 g (2 tbsp) salt and pepper
Directions
Sauté chicken strips in oil for about 8 minutes.
Cook broccoli florets in boiling, salted water for 3 minutes, drain and rinse under cold water. Drain and set aside.
Cut avocado into very thin slices and splash with lemon to avoid oxidation.
In a salad bowl, combine lettuce, broccoli florets, avocado slices and diced bell pepper and jalapeño. Mix together cream, vinegar, salt, pepper and pour over salad. Blend well. Divide salad into 4 serving plates, garnish with chicken strips and sprinkle with chopped herbs prior to serving.
Cook commentary
Serves: 4
Time: hands-on: 9 min
cooking: 11 min
total prep: 20 min
Personal notes