Recipe pictures
You're cooking one of our recipes? Share the pictures of your culinary masterpiece on our website for a chance to win an awesome apron from Recipes Quebecoises. There will be a draw every month.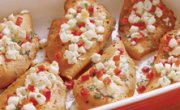 Ingredients
6 boneless skinless chicken breasts (about 1-1/2 lb.)
2 Tbsp. lemon juice, divided
1/4 tsp. salt
1/4 tsp. black pepper
1/2 pkg. (100 g) KRAFT Feta with Oregano, Sun Dried Tomatoes and Cracked Peppercorns
1/4 cup finely chopped red pepper
1/4 cup finely chopped fresh parsley
Preparation
PREHEAT oven to 350°F. Arrange chicken in 13x9-inch baking dish.
DRIZZLE with 1 Tbsp. of the lemon juice. Season with salt and black pepper. Top with feta cheese; drizzle with remaining 1 Tbsp. lemon juice.
BAKE 35 to 40 min. or until chicken is cooked through. Sprinkle with red pepper and parsley.
Jazz It Up : For an extra special Mediterranean twist, sprinkle with 1/4 cup sliced pitted black olives before baking.
Cook commentary
Serves: 6
Comments Very easy, and very tasty! Will definately make this one again and again!
Personal notes