Recipe pictures
You're cooking one of our recipes? Share the pictures of your culinary masterpiece on our website for a chance to win an awesome apron from Recipes Quebecoises. There will be a draw every month.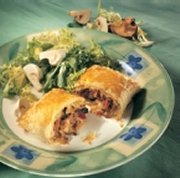 Ingredients
30 mL (2 tablespoons) vegetable oil
1 small onion, finely chopped
500 mL (2 cups) assorted mushrooms (portobello, oyster, shiitake, brown, and common white), coarsely chopped
125 mL (1/2 cup) chicken stock
250 mL (1 cup) 15% country-style cream
4 slices bacon, cooked and chopped
1/2 411-g package frozen puff pastry, thawed
30 mL (2 tablespoons) flour
Salt and pepper, to taste
1 egg, beaten
Preparation
Heat the oil in a frying pan on high heat. Sauté the onions and mushrooms for 5 minutes, stirring often. Stir in the chicken stock and cream, and bring to a boil. Lower the heat to medium-high. Reduce, uncovered, for 8 minutes, stirring often. Add the chopped bacon, and season with salt and pepper, to taste. Stir and set aside.
Sprinkle flour on a work surface and roll out the puff pastry dough to a thickness of 5 mm (1/4 in.). Cut into 4 rectangles and spread the mushroom mixture on half of each rectangle. Brush beaten egg on the edges and fold over the puff pastry, pressing the edges together securely with your fingers or a fork.
Preheat the oven to 375˚F (190˚C). Brush beaten egg on top of the puff pastries. Place them on a cookie sheet and bake for 40 minutes or until crisp and golden brown. Serve as an appetizer on a bed of greens.
Cook commentary
Serves: 4
Variation: For delicious bite-sized hors d'oeuvres, cut the puff pastry dough into 12 rectangles and bake for about 25 minutes.
Personal notes