Recipe pictures
You're cooking one of our recipes? Share the pictures of your culinary masterpiece on our website for a chance to win an awesome apron from Recipes Quebecoises. There will be a draw every month.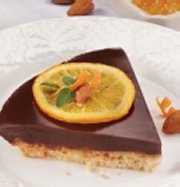 Crust
375 mL (1 1/2 cups) toasted almonds
60 mL (1/4 cup) brown sugar, tightly packed
60 mL (1/4 cup) flour
60 mL (1/4 cup) melted butter
Filling
180 mL (3/4 cup) 35% cream
250 mL (1 cup) Semi-Sweet Chocolate Chips
30 mL (2 tablespoons) orange liqueur
60 mL (1/4 cup) orange marmalade, liquefied
Crust
Preheat the oven to 180°C (350°F). Blend the almonds and brown sugar in a food processor until finely ground. Pour into a bowl, add the flour, and combine thoroughly.
Incorporate the butter until a moist batter is obtained. Press into a 23-cm (9") pie plate. Bake for 20 minutes. Place on a rack and let cool.
Filling
Heat the cream in a double boiler. Add the chocolate and stir until the chocolate is melted. Remove from the heat. Add the orange liqueur and let cool for 30 minutes.
Spread the marmalade on the pie crust, then add the chocolate mixture. Cover and refrigerate for 2 hours. Garnish with slices of candied orange.
Cook commentary
Serves: 6-8 servings
suggestion for accompaniment : Vanilla ice cream
Personal notes