Asian Beef and Coriander Soup Meal
Print
Category
Beef
Thematic No thematic
Source IGA
Evaluation
☆
☆
☆
☆
☆
Recipe pictures
You're cooking one of our recipes? Share the pictures of your culinary masterpiece on our website for a chance to win an awesome apron from Recipes Quebecoises. There will be a draw every month.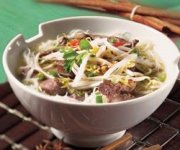 Click to enlarge
Ingredients
1.5 litres (6 cups) Chicken broth
2 Cloves garlic, finely chopped
1 Cinnamon stick, broken in two
2 Star anise
1 Small hot pepper, halved lengthwise, seeds removed
15 mL (1 tablespoon) Brown sugar
45 mL (3 tablespoons) Rice vinegar
30 mL (2 tablespoons) Vegetable oil
450 g (1 lb) Inside round steak, about 2 cm (3/4 in) thick
Salt and pepper to taste
1 bag (250 g) Rice vermicelli noodles
500 mL (2 cups) Bean sprouts
250 mL (1 cup) Peeled and julienned daikon (Japanese radish)
60 mL (1/4 cup) Chopped fresh coriander
2 Green onions, minced (white and green parts)
60 mL (1/4 cup) Chopped roasted peanuts
Finely grated peel of one lemon
Preparation
Bring chicken broth to a boil in a saucepan. Add garlic, cinnamon, star anise, hot pepper, brown sugar and rice vinegar. Reduce heat to medium and allow mixture to simmer for 15 minutes. Remove from heat; cover and keep warm.
In the meantime, heat oil in a skillet over medium-high heat. Add beef and cook for 6 to 7 minutes on each side, or until the meat is cooked but still pink. Season with salt and pepper. Remove from heat; cover with aluminium foil and allow to sit for 5 to 10 minutes. Slice into thin strips.
In a saucepan, cook rice noodles according to package instructions. Drain and divide evenly among 4 large soup bowls. Add bean sprouts and sliced beef. Pour broth over top. Garnish with daikon, coriander, green onions, peanuts and lemon zest.
Cook commentary
Serves : 4 servings
Variation: For a peanut-free version, replace by grilled soy beans sold as a snack.
Personal notes