Recipe pictures
You're cooking one of our recipes? Share the pictures of your culinary masterpiece on our website for a chance to win an awesome apron from Recipes Quebecoises. There will be a draw every month.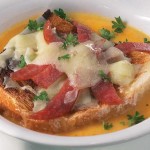 Click to enlarge
Ingredients
30 mL (2 tablespoons) butter
3 shallots, chopped
500 mL (2 cups) sweet potatoes, peeled and cut into cubes
250 mL (1 cup) potatoes, peeled and cut into cubes
1 litre (4 cups)chicken stock
15 mL (1 tablespoon) mild curry paste (or 5 mL/1 teaspoon curry powder)
125 mL (1/2 cup) milk
Pepper, to taste
4 slices Les Trois Moulins Old-World Bread, approx. 1 cm (1/2 in.) thick, toasted
180 g (6 oz) grated Gruyère (or similar Swiss-style cheese)
60 g (2 oz) Hungarian salami, sliced and cut into strips
Parsley (as garnish)
Preparation
Heat the butter in a large saucepan on medium-high. Add the shallots and both types of potatoes. Sauté for 3 minutes or until the shallots are translucent. Add the chicken stock.
Cover and lower the heat to medium-low. Simmer for 20 minutes or until the vegetables are tender. Purée the contents of the saucepan in a food processor or blender. Add the curry paste and milk. Add pepper, to taste, and stir.
Pour equal portions into six oven-safe bowls. Place a slice of toast on each bowl and cover with cheese and salami. Broil for 2 minutes or until the cheese is melted and golden-brown. Garnish with parsley just before serving.
Cook commentary
Serves: 6 servings
Dazzle your guests with a piping-hot soup full of enticing aromas! This recipe puts Switzerland in the spotlight, with Gruyère cheese, an international favourite.
Personal notes