Puffy Peanut Butter Buttons
Print
Category
Peanut Butter
Thematic No thematic
Source dairygoodness
Evaluation
☆
☆
☆
☆
☆
Recipe pictures
You're cooking one of our recipes? Share the pictures of your culinary masterpiece on our website for a chance to win an awesome apron from Recipes Quebecoises. There will be a draw every month.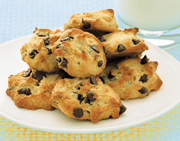 Click to enlarge
Ingredient
2-1/2 cups all-purpose flour 625 mL
3/4 cup whole wheat flour 175 mL
2 tsp baking powder 10 mL
1/2 tsp salt 2 mL
1-1/4 cups peanut butter 300 mL
1/3 cup Butter, softened 75 mL
11/3 cups granulated sugar 325 mL
2 eggs 2
2 tsp vanilla 10 mL
1 cup Milk 250 mL
2 cups miniature semisweet chocolate chips 500 mL
Preparation
Preheat oven to 375°F (190°C). Lightly Butter 2 large baking sheets or line with parchment paper.
In bowl, combine all-purpose and whole wheat flours, baking powder and salt. In separate large bowl, using electric mixer, beat peanut butter, Butter and sugar until light and fluffy. Beat in eggs until light and creamy, then vanilla. Stir in flour mixture alternately with Milk, making 3 additions of flour and 2 of Milk. Stir in chocolate chips.
Drop teaspoons (5 mL) of batter onto prepared baking sheets at least 1 inch (2.5 cm) apart. Bake for about 10 min, rotating pans halfway, or until cookies are firm around the edges yet soft in the centre. Transfer cookies to a rack to cool. Repeat with remaining batter. Store in an airtight container for up to 5 days or freeze for up to 3 months.
Cook commentary
16 dozen
You can't go wrong with these adorable and yummy bite-sized cookies. They'll disappear before your eyes. No one will even guess there is whole wheat flour in them.
Tips: For larger cookies, drop dough by heaping tablespoons (15 mL) at least 2 inches (5 cm) apart onto baking sheets and increase baking time to about 15 min
Personal notes