Recipe pictures
You're cooking one of our recipes? Share the pictures of your culinary masterpiece on our website for a chance to win an awesome apron from Recipes Quebecoises. There will be a draw every month.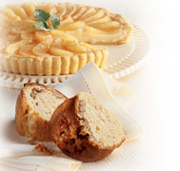 Pastry
1 1/2 cups (375 mL) Five Roses All Purpose Flour
1 tbsp (15 mL) granulated sugar
1/4 tsp (1 mL) salt
3/4 cup (175 mL) cold butter, cubed
1/4 cup (50 mL) ice water
Filling
1/2 cup (125 mL) Five Roses All Purpose Flour
1/2 cup (125 mL) granulated sugar
Pinch salt
21/2 cups (625 mL) warm milk
2 egg yolks
1 tbsp (15 mL) butter
1 tsp (5 mL) vanilla
1 pouch Knox unflavoured gelatine
2/3 cup (150 mL) Poire William or Calvados liqueur
1/4 cup (50 mL) boiling water
3 tbsp (45 mL) honey
1 tbsp (15 mL) lemon juice
1/2 tsp (2 mL) cinnamon
1 can (28 oz/796 mL) pear slices
Pastry
Combine flour, sugar, salt and butter. In food processor, pulse until mixture resembles coarse crumbs. With motor running, add ice water. Turn out onto plastic wrap and press into ball. Refrigerate for 30 minutes. Preheat oven to 400 °F (200 °C).
Roll pastry between two pieces of waxed paper, into 13-in (32.5 cm) circle. Fit into 12-in (30 cm) or 11-in (28 cm) round fluted tart tin, curling edge over. Prick all over with a fork. Line tart shell with foil. Bake in preheated oven for 25 minutes or until golden. Let cool on a rack.
Filling
In a saucepan, combine flour, sugar and salt. Whisk in warm milk until smooth and place pan over medium heat. Cook, stirring constantly, for 6 to 8 minutes, or until thickened. Remove from heat.
Pour a little of the milk mixture into egg yolks; beat until well combined and smooth. Pour into milk mixture and set over low heat. Cook, stirring constantly, for 3 to 5 minutes or until very thick and just beginning to bubble. Remove from heat. Stir in butter and vanilla. Cover with plastic wrap touching surface of filling and let cool to room temperature.
Sprinkle gelatine over liqueur. Let stand for 1 minute. Add boiling water, honey and lemon juice, stirring until gelatine is dissolved. Stir 1/4 cup of the gelatine mixture into egg mixture. Spread evenly in cooled tart shell. Drain pears and arrange decoratively over filling. Stir cinnamon into remaining gelatine mixture. Brush evenly over pears and place tart in refrigerator for 10 minutes. Brush on remaining gelatine mixture until tart is well glazed. Refrigerate for at least 1 hour.
Cook commentary
Servings: 8-10
Personal notes