Apple Custard Crumble
Print
Category
Apples
Thematic No thematic
Source dairygoodness
Evaluation
☆
☆
☆
☆
☆
Recipe pictures
You're cooking one of our recipes? Share the pictures of your culinary masterpiece on our website for a chance to win an awesome apron from Recipes Quebecoises. There will be a draw every month.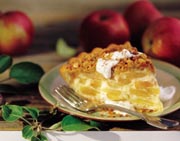 ingredient: Tart & Custard
1 10 inch (25 cm) deep-dish pie shell, unbaked
8 Ontario apples (McIntosh or Spy)
2 tbsp (30 mL) packed brown sugar
1 1/2 tsp (7 mL) cinnamon
Custard
1 cup (250 mL) milk
1 cup (250 mL) whipping cream (35 %)
1/4 cup (50 mL) all-purpose flour
3 egg yolks
1/3 cup (75 mL) granulated sugar
2 tsp (10 mL) vanilla
2 tsp (10 mL) grated lemon peel
Crumble
1/2 cup (125 mL) packed brown sugar
3/4 cup (175 mL) all-purpose flour
1 tsp (5 mL) cinnamon
Pinch of ground nutmeg
1/2 cup (125 mL) butter, cut in bits
1/2 cup (125 mL) grated Canadian Parmesan cheese
1/2 cup (125 mL) quick-cooking oats
Tart & Custard
Preheat oven to 425 °F (220 °C). Partially bake the pie crust for 8 minutes. Let cool. Reduce heat to 350 °F (180 °C). Peel and core apples; cut into slices about 1/4" (6 mm) thick.
In bowl, toss apples with brown sugar and cinnamon to coat. In another bowl, make custard. Beat together milk, cream, flour, egg yolks, sugar, vanilla and lemon peel.
Crumble
In a third bowl, combine brown sugar, flour and spices. Cut in butter. Add Canadian Parmesan cheese and oats. Using your fingers, rub the crumble mixture together to resemble small peas.
To assemble, spoon apples into the pie shell, pressing down lightly. Slowly pour custard over the apples. Sprinkle crumble mixture evenly, completely covering the filling. Bake at 350 °F (180 °C) for 45 to 50 minutes or until crumble is crunchy and apples are soft.
Cook commentary
1 Pie
Tips: Remember apple pie and cheese? Same flavours, same comfort. Serve warm with a luscious dollop of real whipped cream.
Personal notes