Maple and Dark Chocolate Cake
Print
Category
Maple
Thematic No thematic
Source Fédération des producteurs du Québec
Evaluation
☆
☆
☆
☆
☆
Recipe pictures
You're cooking one of our recipes? Share the pictures of your culinary masterpiece on our website for a chance to win an awesome apron from Recipes Quebecoises. There will be a draw every month.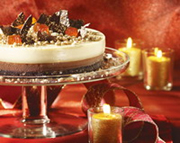 Ingredients
45 ml of unsalted butter, melted (3 tablespoons)
330 ml of chocolate cookie crumbles (1 1/3 cup)
160 ml chopped walnuts (2/3 cup)
250 ml of 35% whipping cream (1 cup)
250 g of dark (semi-bitter) chocolate, finely chopped (8 oz)
30 ml of hot or cold coffee (2 tablespoons)
250 ml of maple syrup (1 cup)
250 ml of milk (1 cup)
310 ml of 35% whipping cream (1 1/4 cup)
2 packets of flavourless gelatine
125 ml of cold water (1/2 cup)
Method
Preheat the oven to 190 °C (375 °F). Mix butter with cookie crumbles and nuts. Press onto the bottom of a 20 cm (8 inch) springform pan and bake for 10 minutes.
Meanwhile, heat the cream on low heat until it steams. Remove from heat, add the chocolate and coffee and whisk until smooth. Cool and pour onto the cooled baked crust.
Refrigerate until the chocolate is firm, or for about 2 hours. In a casserole, heat maple syrup with milk and cream until the mixture is steaming.
Meanwhile, combine the gelatine with water until it swells and dissolve it in the hot milk. Cool to room temperature and pour onto the firm chocolate layer. Refrigerate for at least 2 hours.
To unmold the cake, run a knife along the edge of the cake. Decorate with maple syrup products (jelly, sprinkles, sugars, candy, etc.).
Cook commentary
Yield: 8 servings
Preperation time: 45 min
Cooking Time: 20 min
ENERGY: 422 cal
CARBOHYDRATES: 47 g
FATS: 24 g
Excellent source of dietary fiber
Personal notes