Recipe pictures
You're cooking one of our recipes? Share the pictures of your culinary masterpiece on our website for a chance to win an awesome apron from Recipes Quebecoises. There will be a draw every month.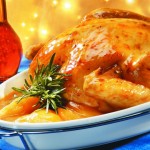 Click to enlarge
Ingredients
A 7 ¾ lb (approx. 3.5 kg) whole regular or young turkey
1 - 28 oz. can (796 ml) of pears, in natural juice, (pears should be drained and the juice set aside)
1 shallot, minced
1 clove of garlic, minced
1 tablespoon of butter
¾ cup of dry white wine
1 cup of chicken bouillon
½ cup of maple syrup
2 teaspoons of any fresh herb (Rosemary, Savoury, Thyme, Sage, etc.), chopped, or ½ teaspoon of any dry herb
Salt and freshly ground pepper to taste
1 ½ tablespoons of flour
Method
Preheat the oven to 200ºC (400ºF).
Place the turkey, breast up, in a roasting pan. Season the cavity and fill with pears. Spread any remaining pears on the bottom of the roasting pan, around the turkey. Tie the two legs using a thread so that the turkey keeps its shape.
Roast uncovered in the middle of oven rack for at least 15 minutes.
Meanwhile, sauté the shallot and garlic in butter in a casserole. Deglaze with wine and simmer until reduced to a 1/3rd of original volume. Add the pear juice, bouillon, maple syrup and herb. Season well. Bring to a boil and pour over the turkey.
Reduce the oven temperature to 160ºC (325ºF), cover and continue to roast for about 2 hours and 20 minutes, or for 40 minutes for each 1 kg (2.2lb.) of turkey, or until the meat comes off easily away from the bones. Baste with the pear juice mixture regularly. Uncover for the last 20 to 30 minutes to give it a nice golden colour.
Let the turkey rest for 15 to 20 minutes before carving. Meanwhile, pour all of the roasting juices into a small casserole. Bring to a boil. Mix flour with a little bit of water and add to the casserole using a beater. Let the mixture simmer until it thickens. Serve turkey with the pears and gravy.
Cook commentary
(8 to 10 Servings)
Personal notes