Maple Syrup Doughnuts
Print
Category
Donuts traditional
Thematic No thematic
Source Fédération des producteurs du Québec
Evaluation
☆
☆
☆
☆
☆
Recipe pictures
You're cooking one of our recipes? Share the pictures of your culinary masterpiece on our website for a chance to win an awesome apron from Recipes Quebecoises. There will be a draw every month.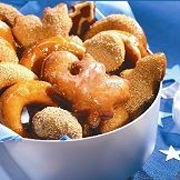 Ingredients
1 envelope (8 g) of dry yeast
½ cup of warm water
1 cup of milk
3 tablespoons of melted butter
2 eggs
1 teaspoon of salt
¾ cup of maple sugar
4 cups of flour
2 cups of maple syrup
Garnish: Decorate with any maple syrup product (butter, sugar, maple sugar chips, taffy, mini candy, etc.)
Method
Dissolve the yeast in warm water in a bowl. Cover and let sit for 10 minutes.
Heat the milk until it boils and pour into a large bowl. Add butter, salt and maple sugar and mix until dissolved. Add the yeast mixture.
Add half of the flour and mix using a beater. Stir in the eggs. Gradually add the rest of the flour until the dough no longer sticks to the sides of the bowl.
Place the dough on a floured surface and knead adding more flour if it is sticky. Place in a buttered bowl and let rise until it doubles in size, for approximately 1 hr and 15 min. Knead for another minute and let rise for 30 minutes.
On a floured surface, roll out the dough using a rolling-pin to a thickness of 1 cm (1/2 inch). Let rise for 10 minutes. Preheat oil in a deep fryer to 190°C (375°F). Form the doughnuts into desired shapes and drop into the oil.
Meanwhile, bring the maple syrup to a boil in a pan. Once the doughnuts are golden in colour, remove from oil and place in the maple syrup. For a strong maple flavour, let the doughnuts sit in the hot mixture for 2 minutes. Place the doughnuts on a cooling rack and let cool. Decorate.
Cook commentary
(3 dozen)
GREAT GIFT IDEA! A box of maple syrup doughnuts makes a wonderful gift!
Personal notes