Recipe pictures
You're cooking one of our recipes? Share the pictures of your culinary masterpiece on our website for a chance to win an awesome apron from Recipes Quebecoises. There will be a draw every month.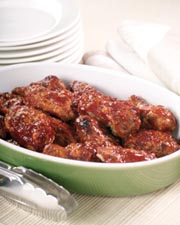 Click to enlarge
Ingredients
3 lb (1.4 kg) chicken wings
3 egg(s)
6 oz (175 g) frozen orange juice concentrate, thawed
1 cup (250 mL) all-purpose flour
1/2 cup (125 mL) pecans, finely-chopped
Red hot sauce
1 cup (250 mL) ketchup
1/4 cup (60 mL) brown sugar
3 tbsp (45 mL) hot pepper sauce
Preparation
Cut chicken wings into three pieces, discarding the wing tips.
In a bowl, whisk eggs and orange juice concentrate. In another bowl, combine flour and pecans. Dip wings in egg mixture, then roll in flour mixture.
Spread wings on a foil-covered baking sheet and bake, uncovered at 375°F (190°C) for 25 minutes.
Red hot sauce Preparation
Combine sauce ingredients and generously coat wings with about ½ the sauce and continue to bake for 15 minutes. Turn wings over, coat with remaining sauce and bake another 15 minutes longer.
Cook commentary
Prep Time:15 mins
Cook Time:25 mins

*Nutrition Info
Orange and Pecan Hot Wings
Per 260 g serving
Amount
Calories 580
Protein 35 g
Fat 32 g
Saturated Fat 8 g
Carbohydrate 37 g
Fibre 2 g
Sugar 24 g
Cholesterol 130 mg
Sodium 490 mg
Per 260 g serving
% Daily Value
Potassium 18
Calcium 4
Iron 15
Vitamin A 15
Vitamin C 80
Vitamin B6 40
Vitamin B12 27
Folate 37
Magnesium 24
Zinc 31
Personal notes