CARNATION Shepherd's Pie
Print
Category
Shepherds pie
Thematic No thematic
Source Nestlé Carnation
Evaluation
☆
☆
☆
☆
☆
Recipe pictures
You're cooking one of our recipes? Share the pictures of your culinary masterpiece on our website for a chance to win an awesome apron from Recipes Quebecoises. There will be a draw every month.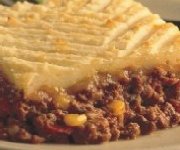 Mashed Potato Topping
3 lb. potatoes (about 6 large), peeled and quartered
1.5 kg
1 can (370 ml) NESTLÉ® CARNATION® Fat Free Evaporated Milk
3 tbsp butter 45 ml
1 tsp salt 5 ml
1/4 tsp black pepper 1 ml
Paprika
Filling
1-1/2 lb. lean ground beef 750 g
1 large onion, chopped
2 cloves garlic, minced
1 red or green pepper, chopped
2 cups frozen mixed vegetables 500 ml
1 tbsp Worcestershire sauce 15 ml
1 tsp each salt and dried thyme 5 ml
1/2 tsp black pepper
1/3 cup ketchup 75 ml
Mashed Potato Topping
Mashed Potato Topping: Cover potatoes with water in large pot; bring to boil. Reduce heat, cover and simmer 15 to 20 minutes or until tender; drain well. Add 1 cup (250 ml) evaporated milk, butter, salt and pepper; mash until smooth. Set aside.
Filling
Preheat oven to 350°F (180°C). Brown beef in large skillet over medium-high heat for 3 minutes. Add onion, garlic and pepper; cook 6 to 8 minutes or until pepper is slightly softened and beef is no longer pink. Drain off fat.
Reduce heat to medium-low. Add remaining evaporated milk, frozen vegetables, Worcestershire sauce, salt, thyme and pepper, stirring until combined. Remove from heat; stir in ketchup. Spoon into 13 x 9-inch (3.5 L) baking dish, spreading evenly.
Smooth mashed potato topping over filling, sealing to edges of dish. Sprinkle with paprika. Bake 30 to 35 minutes or until hot and bubbling.
Cook commentary
Makes 8 servings.
This Shepherd's Pie is a flavourful one-dish classic. Choose your favourite mixed vegetables for the filling and serve with a tossed green salad.
Nutrients per serving: about 431 Calories, 22 g Protein, 19 g Fat, 43 g Carbohydrates
Personal notes