Recipe pictures
You're cooking one of our recipes? Share the pictures of your culinary masterpiece on our website for a chance to win an awesome apron from Recipes Quebecoises. There will be a draw every month.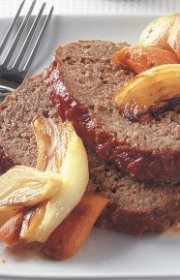 Ingredients
2 tbsp vegetable oil 30 ml
1 tbsp chopped fresh parsley 15 ml
1 tsp each salt and pepper 5 ml
4 each large carrots and potatoes, cut in chunks
1 large onion, quartered
1-1/3 cups NESTLÉ® CARNATION® Fat Free Evaporated Milk 325 ml
2/3 cup each dry bread crumbs and chili sauce or ketchup 150 ml
4 tsp Worcestershire sauce 20 ml
2 lb lean ground beef 1 kg
½ cup chili sauce or ketchup 125 ml
Preparation
Preheat oven to 375ºF (190ºC). Grease 13 x 9-inch (3 L) baking dish; set aside.
Combine oil, parsley and half each of the salt and pepper in large bowl; add vegetables and toss to coat. Combine evaporated milk, bread crumbs, chili sauce, Worcestershire sauce and remaining salt and pepper in another large bowl. Stir in beef.
Form mixture into 9 x 5-inch (23 x 12 cm) loaf and place in prepared pan. Surround with vegetables; cover with foil. Bake 45 minutes. Remove from oven; remove foil. Spread chili sauce on top of loaf. Bake, uncovered, 45 minutes longer or until internal temperature reaches 160ºF (71ºC).
Cook commentary
Makes 8 servings.
Served with creamy mashed potatoes, this is pure comfort food to warm up to on a chilly night.
Personal notes
All comments (1)