Recipe pictures
You're cooking one of our recipes? Share the pictures of your culinary masterpiece on our website for a chance to win an awesome apron from Recipes Quebecoises. There will be a draw every month.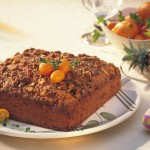 Click to enlarge
Cinnamon Topping
175 mL (1/1 cup) brown sugar
175 mL (1/1 cup) chopped walnuts
75 mL (1/3 cup) all purpose flour
7 mL (1-1/2 tsp) ground cinnamon
50 mL (1/4 cup) butter or margarine
Cake
1 can (1 can) 19-oz (540 mL) crushed pineapple
550 mL (2-1/4 cups) all purpose flour
15 mL (1 tbsp) grated lemon rind
7 mL (11/2 tsp) baking powder
3 mL (1/1 tsp) baking soda
2 mL (1/2 tsp) salt
125 mL (1/2 cup) butter or margarine
250 mL (1 cup) sugar
3 eggs
250 mL (1 cup) sour cream
Cinnamon Topping
In small bowl combine brown sugar, walnuts, flour and cinnamon. Cut in butter or margarine until crumbly. Set aside.
Cake
Drain pineapple in a sieve, pressing with a spoon on top of fruit to drain excess juice; set pineapple aside. Reserve pineapple juice for another use.
On waxed paper, combine flour, lemon rind, baking powder, baking soda and salt. In medium bowl, cream butter or margarine with sugar until well mixed. Add eggs, one at a time, beatingwell after each addition. Stir in dry ingredients
alternately with sour cream. Spread half the batter in a greased and floured 10-inch (25 cm) square baking pan or 13 x 9-inch (34 x 22 cm) baking pan. Sprinkle half the cinnamon topping over batter. Spread remaining batter on top. Spoon pineapple evenly over batter. Sprinkle with remaining cinnamon topping.
Bake in a 350°F (180°C) oven until toothpick inserted in centre comes out clean, about 50 minutes. Serve warm.
Cook commentary
12 Servings
Substitute 1 - 19-oz (540 mL) can blueberry, cherry, raspberry or apple pie filling for crushed pineapple. Or substitute 4 medium apples, peeled, cored and thinly sliced; arrange slices over batter, overlapping slightly. Sprinkle with remaining cinnamon topping and bake as directed.
Personal notes