Caramel-Pecan Brownies
Print
Category
Butterscotch
Thematic No thematic
Source Imperial
Evaluation
☆
☆
☆
☆
☆
Recipe pictures
You're cooking one of our recipes? Share the pictures of your culinary masterpiece on our website for a chance to win an awesome apron from Recipes Quebecoises. There will be a draw every month.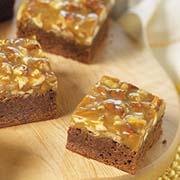 Brownie layer
2 squares unsweetened chocolate
½ cup IMPERIAL Margarine 125 mL
1 cup granulated sugar 250 mL
2 eggs
1 tsp vanilla extract 5 mL
½ cup all-purpose flour 125 mL
Caramel-Pecan layer
½ cup IMPERIAL Margarine 125 mL
1/3 cup packed brown sugar 75 mL
1/3 cup corn syrup 75 mL
1 ½ Tbsp whipping cream 22 mL
1 tsp vanilla extract 5 mL
1 1/3 cups chopped pecans 325 mL
Brownie layer
Preheat oven to 350° F (180° C). Grease 8-inch (20 cm) square pan.
In small saucepan on very low heat, melt chocolate and margarine; cool completely. Add sugar, eggs and vanilla; beat well until smooth. Stir in flour. Pour into pan; bake 20 to 22 minutes until cake tester inserted in centre comes out almost clean. Cool completely in pan on wire rack.
Caramel-Pecan layer
In a medium, heavy saucepan, bring margarine, brown sugar, and corn syrup to a boil over medium heat. Without stirring, boil about 10 to 12 minutes, until candy thermometer reaches 245° F (118° C), the "firm ball" stage. (Syrup forms a firm ball in very cold water when gathered up and will not flatten on removal from water.)
Remove from heat and carefully add cream and vanilla; mixture will bubble and steam. Stir in pecans and immediately pour over brownie layer in pan. Cool, then chill until caramel is firm.
Cook commentary
Makes 16 servings.
Prep time: 40 min.
Bake time: 20 to 22 min.)
Per serving: 304 Cal; 2.6 g Pro; 22 g Fat; 27.7 g Carb; 1.6 g DFib
Personal notes