Recipe pictures
You're cooking one of our recipes? Share the pictures of your culinary masterpiece on our website for a chance to win an awesome apron from Recipes Quebecoises. There will be a draw every month.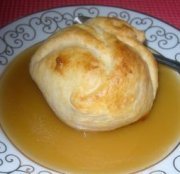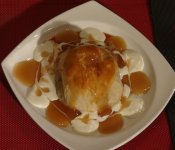 Click to enlarge
Ingredients: Dough
2 cups of all-purpose flour
2 teaspoons of baking powder
2/3 cup of fat
1/4 to 1/3 cup of water
Filling:
3/4 cup of brown sugar
2 1/2 teaspoons of cinnamon
6 average size apples peeled and pips removed
1 teaspoon of unsalted butter per apple
Ingredients: Caramel Sauce
3 tablespoons of cornstarch
1 cup of brown sugar, well compress
1 pinch of salt
1 cup of cold water
1 cup of boiling water
1/4 cup of butter
2 teaspoons of vanilla
Preparation
Prepare the dough like a pie crust. In a bowl: Mix the cinnamon and sugar together, set aside. Fill the cavity of the apple with this mixture firmly packed and put a small piece of butter on top. Place a piece of saran wrap enoug large in a soup bowl and put a piece of dough in the bowl on it. Working with your fingers form a smooth dough to dress the apple.
Place the apple on the dough and remove of the bowl the saran wrap with the apple. Work the dough in your hands bypassing the apple and close the top. Remove the apple turnovers in a pan 9 x 13 x 2 inches.
Preparation: Caramel Sauce
In a medium saucepan put cornstarch, sugar and salt, add cold water and stir. Now add boiling water. Heat to boiling, boil 2 minutes, stirring. Remove from heat and add butter and vanilla.
Pour the sauce into the bottom of the pan, being careful not to sprinkle the turnovers. Brush turnovers with cream or one beaten egg white. Bake at 400F/204C, 40 minutes.
Cook commentary
You can double the sauce.
Take Cortland apples, they retain their shapes. This recipe is in the family for over 40 years, this is a great recipe when the apple time comes. Cortland is the best for turnovers!!
Since few years, I make my sauce on the side and I cook turnovers without the sauce. I prefer.
This personal photo 2 is Pragmaticloulou. I had to go to the evidence that her picture was more beautiful than mine, so a big thank you!! Pragm
Personal notes
All comments (1)

Tres bonne recette ,je l,ai fait avec ma pate a tarte
et tous ont apprecier cette recette .....henri