Recipe pictures
You're cooking one of our recipes? Share the pictures of your culinary masterpiece on our website for a chance to win an awesome apron from Recipes Quebecoises. There will be a draw every month.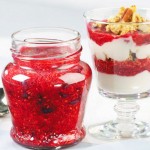 Click to enlarge
Ingredients
3 cups chopped raspberries (do not mash or purée) 750 mL
1 cup chopped blueberries
(do not mash or purée) 250 mL
1 ½ cups granulated sugar 375 mL
1 pkg (45 g) CLUB HOUSE GARDEN FARE No Cook Freezer Jam Gelling Powder
Glass or plastic jars with tight ?tting lids
Preparation
Place fruit in large mixing bowl. Gently stir in sugar. Let stand 15 minutes. Slowly sprinkle Garden Fare gelling powder a little at a time onto fruit mixture, while stirring for 3 minutes. Let stand 5 minutes. Gently stir again 1 minute.
Pour jam into clean jars, leaving 1-inch (2.5 cm) head space. Seal. Jam is ready to eat! No standing time is required. Store in refrigerator and use within 6 weeks, or store in freezer for up to one year.
Cook commentary
Makes approximately 4 ½ cups (1.1 L).
Breakfast Parfait: (Prep time: 5 minutes)
In parfait or dessert cup, layer half of a 175 g container plain (or vanilla) yogurt, 2 Tbsp (30 mL) No Cook Raspberry-Blueberry Jam and ¼ cup (50 mL) JORDANS Morning Crisp Cereal, Bursting with Nuts. Repeat layers. Makes 1 serving.
Per serving: 364 Cal; 12.8 g Pro; 12.2 g Fat; 51.3 g Carb; 3.3 g DFib
Personal notes