No Cook Strawberry Jam Club House
Print
Category
Strawberry jam
Thematic No thematic
Source CLUB HOUSE* Garden Fare®
Evaluation
☆
☆
☆
☆
☆
Recipe pictures
You're cooking one of our recipes? Share the pictures of your culinary masterpiece on our website for a chance to win an awesome apron from Recipes Quebecoises. There will be a draw every month.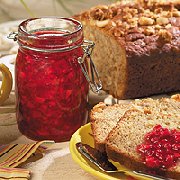 Ingredients
4 cups finely chopped strawberries (do not mash or purée) 1 L
1 1/2 cups granulated sugar 375 mL
1 pkg (45 g) CLUB HOUSE* Garden Fare® No Cook Freezer Jam Gelling Powder
Prepartion
Place prepared fruit in large bowl. Gently stir in sugar. Let stand 15 minutes.
Slowly sprinkle Garden Fare® gelling powder a little at a time onto fruit mixture, while stirring for 3 minutes. Let stand 5 minutes. Gently stir 1 minute.
Pour jam into clean glass or plastic containers. (If freezing, leave 1-inch/2.5 cm head space.) Cover with tight fitting lids and store in refrigerator up to 6 weeks or freeze up to a year.
Cook commentary
Makes about 4 1/2 cups (1.1 L).
Summer fruit jam at its freshest?ready to spread on toast, bagels and more. For quick treats, stir some into plain yogurt or spoon over angel food cake and top with whipped cream.
Per Serving: 38 Cal; 0.1 g Pro; 0.1 g Fat; 9.6 g Carb; 0.4 g DFib
Variations: Peaches 'n' Almond: 4 cups (1 L) chopped peaches, 1 tsp (5 mL) Club House* Almond Extract
Kiwi-Berry: 2 cups (500 mL) gently crushed raspberries, 2 cups (500 mL) finely chopped kiwi
Personal notes