Spaghetti Squash with Meatballs
Print
Category
Zucchini
Thematic
Stove
Source Maxi
Evaluation
☆
☆
☆
☆
☆
Recipe pictures
You're cooking one of our recipes? Share the pictures of your culinary masterpiece on our website for a chance to win an awesome apron from Recipes Quebecoises. There will be a draw every month.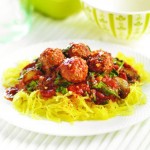 Click to enlarge
Ingredients
1 large spaghetti squash
32 lean meatballs 454 g (1 pound)
1/4 cup (50 mL) grated parmesan cheese
2 tsp (10 mL) olive oil
2 cloves garlic, minced
4 cups (375 g) button or cremini mushrooms, sliced
1 bag (8 oz/227 g) fresh spinach, trimmed and chopped
1 jar (700 mL) tomato and basil pasta sauce
1/4 tsp (1 mL) hot pepper flakes (optional)
Preparation
Preheat oven to 400°F (200°C). Spray large rimmed baking sheet with cooking spray.
Cut squash in half. Remove seeds. Place cut side down on baking sheet; bake in centre of oven for 30 minutes. Arrange meatballs in single layer on same baking sheet; bake for 14 to 16 minutes or until meatballs are heated through and squash is tender. Using fork, scrape squash strands into a bowl; stir in parmesan cheese. Transfer to serving dish; keep warm. Cover meatballs to hold warmth.
Meanwhile, in large saucepan, heat oil over medium-high heat. Cook garlic, mushrooms, and hot pepper flakes (if using) for about 5 minutes or until mushrooms are golden. Add spinach in two batches; cook for about 2 minutes or until slightly wilted. Stir in pasta sauce and hot meatballs; reduce heat to low and cook for about 5 minutes or until heated through. Spoon over squash.
Cook commentary
Portion: 8
Cook: 60 min
Preparation: 20 min
Personal notes