Recipe pictures
You're cooking one of our recipes? Share the pictures of your culinary masterpiece on our website for a chance to win an awesome apron from Recipes Quebecoises. There will be a draw every month.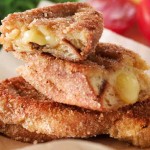 Click to enlarge
Ingredients
10 oz (200 g) Canadian Brie Triple-Crème cheese
2 eggs
2/3 cup (160 mL) Milk
24 thin slices of baguette bread, cut diagonally
4 anchovy fillets, chopped fine
1 tbsp (15 mL) paprika
1 cup (250 mL) breadcrumbs
3 tbsp (45 mL) butter
Freshly ground pepper
Preparation
Warm knife blade under hot water and cut 12 thin slices of Canadian Brie Triple-Crème cheese.
Using a whisk, beat eggs, then blend in milk. Place cheese slices on half the bread slices. Garnish with chopped anchovies, season with paprika and a generous sprinkle of pepper. Cover with remaining bread slices and press firmly.
Dip sandwiches in egg mixture, then in breadcrumbs, pressing firmly so crumbs adhere.
Melt butter in a frying pan and fry sandwiches on both sides until browned.
Cook commentary
Prep. Time: 15 mins
Cooking Time: 10 mins
4 servings
Personal notes