Turkey and Kale Frittata (paleo)
Print
Category
Paleo
Thematic
health
Source The Gourmet Confession
Evaluation
☆
☆
☆
☆
☆
Recipe pictures
You're cooking one of our recipes? Share the pictures of your culinary masterpiece on our website for a chance to win an awesome apron from Recipes Quebecoises. There will be a draw every month.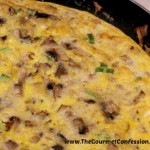 Click to enlarge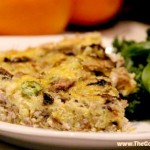 Click to enlarge
Turkey and Kale Frittata
10 eggs
1/2 pound ground turkey (or ground chicken)
1 1/2 cups of loosely packed kale leaves, ribs removed
1 medium onion, chopped
2 garlic cloves, finely chopped
1 cup of fresh mushrooms, sliced
Coconut oil
Salt & pepper, to taste
Turkey and Kale Frittata
1.Preheat oven at 400F degrees.
2.In a large bowl, whisk together the 10 eggs. Set aside.
3.Step 1 : In an oven-proof skillet or cast iron pan over medium high heat, cook onions and garlic until tender and translucent, for about 5 minutes.
4.Step 2 : Add meat, brown and cook ground turkey until it's cooked through.
5.Step 3 - 4 :Gently add in the mushrooms, kale leaves and eggs.
6.Let it cook for 1-2 minutes before running a spatula along the edge of the eggs & pan. Let cook for 1-2 minutes more, making sure the top of the frittata is still uncooked. Place the entire skillet carefully into the oven and bake for 15 minutes.
7.Once the top has cooked through and browned a little, remove the pan, serve warm or reheat in microwave the next morning.
Cook commentary
Prep Time 10 min
Cook Time 20 min
Total Time 30 min
Serves 5
You will need a cutting board and an oven safe frying pan for this recipe.
http://thegourmetconfession.com/healthy-breakfast


Personal notes