Recipe pictures
You're cooking one of our recipes? Share the pictures of your culinary masterpiece on our website for a chance to win an awesome apron from Recipes Quebecoises. There will be a draw every month.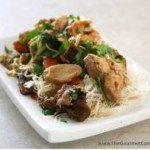 Click to enlarge
Ingredients
250 grams thin rice noodles
3 chicken breasts, cut in bite sized pieces
1 cup raw shrimps, peeled and deveined
2 celery stalks, thin slices diagonally cut
1 carrot, thin slices diagonally cut
1 parsnip, thin slices diagonally cut
1 onion, chopped
2 garlic cloves, finely chopped
2 tablespoon ginger finely chopped
2 cups of sliced mushrooms
1 cup of broccoli cut into bite sized pieces
Coconut oil.
Sauce
1 tablespoon oyster sauce
1 tablespoon fish sauce
1 tablespoon Hoisin sauce - gluten-free (or see this homemade version)
2 tablespoon coconut aminos (this is the one I use)
Peparation
Bring a large pot of water to boil for the rice noodles.
Put the chopped onion, ginger and garlic in coconut oil over medium heat for 3 minutes. Add the chicken and shrimps (put the chicken first if not all the same size to cook evenly) and cook until the chicken is almost done, 5 to 7 minutes Set aside in a bowl.
Add coconut oil to your wok and bring to high temperature. Add carrot, parsnip, celery and mushroom slices for about 5 minutes. Add the broccoli for 2 minutes and lower the temperature.
Then, add the liquid ingredients directly in the wok for the sauce. Add the chicken and shrimps to the mix.
Put the rice noodle in boiling water for 3 minutes. Drain in the skimmer and serve immediately with the vegetable mix on top. Add some coriander for a final flavorful touch.
Notes
You could very easily change the vegetables in this recipe depending on what you have in the fridge : snow peas, Chinese cabbage, eggplant, bamboo shoots, zucchinis, brussels sprouts, peppers or asparagus.
You could also add some cashews, sesame seeds, sliced almonds or bacon bits to your recipe.
Cook commentary
Preparation:25 min
Cook:20 min.
To serve,Chopped coriander
You could very easily change the vegetables in this recipe depending on what you have in the fridge : snow peas, Chinese cabbage, eggplant, bamboo shoots, zucchinis, brussels sprouts, peppers or asparagus.
You could also add some cashews, sesame seeds, sliced almonds or bacon bits to your recipe.
http://thegourmetconfession.com/paleo-chicken-and-shrimp-stir-fry
Personal notes