Recipe pictures
You're cooking one of our recipes? Share the pictures of your culinary masterpiece on our website for a chance to win an awesome apron from Recipes Quebecoises. There will be a draw every month.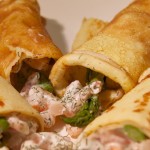 Click to enlarge
Ingrédients
Salt & pepper
1 cup flour
1/2 teaspoon salt
2 eggs
1 2/3 cups milk
Stuffing
1 pound cooked fresh asparagus
1 teaspoon butter
1 small onion chopped
1 small leek minced
1 pound shrimp cooked, without shell and deveined
3 cans Aylmer Cream of Celery
1 1/2 cups milk
1/2 cup shredded Gruyère
pinch nutmeg
salt & pepper
Préparation
Pancake:Mix all ingredients with a mixer until smooth & creamy. Let it sit for 30 minutes.
Over high-medium heat, pour the mixture in a greased skillet (1/4 cup of mixture for 1 pancake), spread the mixture around to make a 6'' round pancake.
Brown 1-2 minutes, flip the pancake over to brown the other side. Put aside and cover with a towel to keep warm.
Lay the pancake on a cutting board, spread the onion-leek mixture in the middle of each pancake, divide the asparagus and place them over the onion-leek mixture, add the shrimps on top; spread 2 tbs of Aylmer cream of celery over the shrimps, roll the pancake and put in an ovenproof casserole.
Top the rest of the creamy mixture over the pancakes, sprinkle with the cheese. Cook in oven 350F about 30-40 minutes.
Stuffing
Stuffing:Melt butter in skillet under medium-high heat, cook onion and leek for 2-3 minutes.
Remove from pan and reserve.
In the same skillet, heat the cream of celery while stirring, add milk gradually until the mixture is smooth and creamy. Add salt, pepper and nutmeg.
Cook commentary
Cook Time: 40 min
Ready Time: 40 min
Servings: 3-4 People
Personal notes