Recipe pictures
You're cooking one of our recipes? Share the pictures of your culinary masterpiece on our website for a chance to win an awesome apron from Recipes Quebecoises. There will be a draw every month.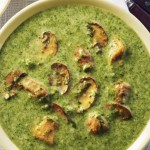 Click to enlarge
Ingredients
1/2 lb (0.3 kg) skinless chicken thighs
1 tbsp (15 mL) butter
1 tbsp (15 mL) olive oil
8 brown mushrooms, sliced
1 tsp (5 mL) sweet paprika
1 tbsp (15 mL) butter
2 garlic cloves, minced
1 cup (250 mL) onions, diced
1 stalk celery, medium, sliced
10 oz (285 g) frozen spinach, defrosted
2 tbsp (30 mL) chickpea flour (besan)
or
2 tbsp (30 mL) whole wheat flour
5 cups (1.25 L) low-sodium chicken broth
1 can evaporated milk, partly skimmed, 2% MF
1 tsp (5 mL) italian dried herb mix
1/2 tsp (2.5 mL) salt
1/4 tsp (1.25 mL) white pepper, ground
16 baby spinach, fresh
1 cup (250 mL) old cheddar cheese, shredded
1/2 tsp (2.5 mL) sweet paprika, (optional garnish)
Preparation
Cut boneless skinless chicken thigh into smaller bite-size pieces.
Heat butter with olive oil over medium high heat in soup pot.
Add chicken and sliced mushrooms to pan. Sprinkle with paprika and sauté until chicken is cooked through. Stir occasionally. Remove from pan and keep warm.
Melt more butter in pan. Add minced garlic, diced onion and finely sliced celery. Sauté a few minutes. Sprinkle over flour and stir so it is combined and there are no lumps. Continue to sauté on medium heat.
Chop frozen defrosted spinach into smaller pieces using a sharp knife. Add spinach and any juices from the spinach to the soup pot. Continue to sauté on medium heat for 2-3 minutes.
Stir in chicken broth and the can of evaporated milk. Heat over medium heat until soup comes to a boil. Reduce heat to low. Puree the soup using a stick immersion blender.
Stir in cooked chicken, mushrooms and any juices. Season with Italian mixed herbs, salt and pepper. Heat on medium heat until very hot but do not bring to boil.
To serve, ladle into bowls and top with a few fresh baby spinach leaves and a sprinkle of shredded old cheddar cheese. Dust with a sprinkle of sweet paprika (optional garnish).
Cook commentary
Serves: 8
Prep Time: 15 mins
Cook Time:30 mins

*Nutrition Info
Cream of Spinach & Chicken Soup
Per 325 g serving
Amount
Calories 240
Protein 18 g
Fat 13 g
Saturated Fat 6 g
Carbohydrate 13 g
Fibre 2 g
Sugar 6 g
Cholesterol 50 mg
Sodium 410 mg
Personal notes