Recipe pictures
You're cooking one of our recipes? Share the pictures of your culinary masterpiece on our website for a chance to win an awesome apron from Recipes Quebecoises. There will be a draw every month.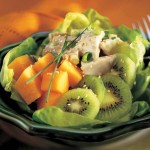 Click to enlarge
Ingredients
2/3 cup (150 mL) VH® Plum Dipping Sauce
1/2 cup (125 mL) plain, fat-free yogurt
1 tbsp (15 mL) VH® Reduced Sodium Soya Sauce
1 tsp (5 mL) minced fresh ginger
1/4 tsp (1 mL) black pepper
1 tbsp (15 mL) olive oil
2 cups (500 mL) cubed cooked chicken breast
1 can (10 oz/284 mL) water chestnuts, drained
1/2 cup (125 mL) chopped green onions
romaine or other lettuce leaves as desired
1/2 cup (125 mL) each mandarin oranges (drained), cantaloupe and kiwi sliced
1 tbsp (15 mL) sesame seeds
Preparation
In a bowl, combine VH® Plum Sauce, yogurt, VH® Reduced Sodium Soya Sauce, fresh ginger, pepper and oil.
Add chicken, water chestnuts and green onions.Stir gently to coat all ingredients.
Arrange salad on lettuce leaves.Garnish with mandarin oranges, cantaloupe and kiwis.Sprinkle with sesame seeds.
Cook commentary
Prep Time: 15 min.
Cook Time: 0 min.
Serves: 4

*Nutrition Facts Per serving 385 g
Amount % Daily Value
Calories 460
Fat 11 g 17%
Saturated 2.5 g
Trans 0 mg
Cholesterol 115 mg 38%
Sodium 330 mg 14%
Carbohydrate 43 g 14%
Fiber 4 g 16%
Sugars 19 g
Protein 46 g
Personal notes