Recipe pictures
You're cooking one of our recipes? Share the pictures of your culinary masterpiece on our website for a chance to win an awesome apron from Recipes Quebecoises. There will be a draw every month.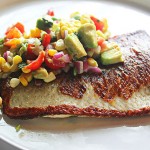 Click to enlarge
ingredients
2 ears of corn on the cob, cooked, kernels removed (about 1 cup cooked kernels)
1 small red onion, minced (about 1/2 cup)
1 medium Hass avocado, diced (about 1 cup)
1 small tomato, diced (about 1 cup), or 1 1/2 cups cherry tomatoes, quartered
1 tablespoon red wine vinegar
1 tablespoon fresh-squeezed lime juice
2 1/2 tablespoons extra-virgin olive oil, divided
2 tablespoons chopped fresh basil leaves
Kosher salt and freshly ground black pepper
2 tablespoons unsalted butter
4 skin-on whitefish (or other light, white-fleshed fish) fillets, about 6 ounces each, patted dry with paper towels
Preparation
Combine corn, red onion, avocado, tomato, red wine vinegar, lime juice1 1/2 tablespoons olive oil, and basil in a medium bowl. Season with salt and pepper.
Season fish with salt and pepper. Melt butter and remaining 1 tablespoon olive oil in a large skillet over medium-high heat until butter is foaming. Add fish, skin side-down, and cook, pressing gently on back of filets to ensure good contact with skin, until skin is crisp, 3 to 5 minutes. If skin shows resistance when attempting to lift with a spatula, allow it to continue to cook until it lifts easily. Flip fish and cook until just cooked through, 2 to 3 minutes.
Transfer fish to plates, top with relish and serve immediately.
Cook commentary
Serves: 4
ACTIVE TIME: 20 minutes
TOTAL TIME: 30 minutes
Note: The relish can be made up to 1 hour in advance
Personal notes