Recipe pictures
You're cooking one of our recipes? Share the pictures of your culinary masterpiece on our website for a chance to win an awesome apron from Recipes Quebecoises. There will be a draw every month.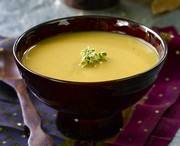 Click to enlarge
Ingredients
To roast squash:
1 butternut squash, about 2 1/2 lb (1.2 kg)
1 tsp (5 mL) olive oil
1/2 cup (125 mL) water
For soup:
2 tbsp (30 mL) olive oil
2 cups (500 mL) onions, finely chopped
2 tbsp (30 mL) fresh ginger, peeled and finely chopped
4 cups (1 L) water
1 cup (250 mL) coconut milk
3/4 cup (180 mL) VH® Vindaloo Sauce
Preparation
Carefully slice squash in half lengthwise, scoop out and discard seeds.
Place squash cut sides down in a baking dish, add oil and water. Bake in 350°F (175°C) oven for 1 hour or until knife-tender. Peel squash as soon as it is cool enough to touch, this will make the skin come off with more ease.
In a large pot heat oil over medium and sauté onions and ginger until tender, about 10 minutes. Add cooked squash, water, coconut milk and VH® Vindaloo Sauce. Simmer for 30 minutes on low heat.
Let soup cool slightly and puree in food processor or blender. Warm through and serve.
Cook commentary
Prep Time: 5 min.
Cook Time: 100 min.
Serves: 6

*Nutrition Facts Per serving 512 g
Amount % Daily Value
Calories 290
Fat 16 g 25%
Saturated 9 g
Trans 0 mg
Cholesterol 0 mg 0%
Sodium 140 mg 6%
Carbohydrate 39 g 13%
Fiber 7 g 28%
Sugars 13 g
Protein 4 g
Personal notes