Recipe pictures
You're cooking one of our recipes? Share the pictures of your culinary masterpiece on our website for a chance to win an awesome apron from Recipes Quebecoises. There will be a draw every month.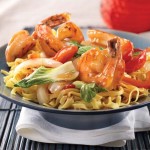 Click to enlarge
Ingredients
PAM® Original Cooking Spray
2 cups (500 mL) finely sliced onion
1 cup (250 mL) finely sliced red pepper
6 cups (1.5 L) chopped bok choy
1 lb (500 g) medium raw shrimp, thawed and peeled
1 bottle VH® Orange Ginger Stir-Fry Sauce
1 lb (500 g) Chinese egg noodles, cooked per package directions
Preparation
Spray large cooking pot with PAM® Cooking Spray; heat over medium-high heat.
Add onions and peppers; cook for 5 minutes. Add bok choy; cook, uncovered, for 5 minutes.
Stir in shrimp and VH® Orange Ginger Sauce. Cover and cook on high until the shrimps have turned pink, about 2 minutes. As soon as they are pink they are cooked.
Serve over top of cooked egg noodles.
Cook commentary
Prep Time: 4 min.
Cook Time: 12 min.
Serves: 4

*Tip:
If desired use 4 cups of broccoli in place of bok choy.
A great side dish is green beans sauteed with fresh garlic.

*Nutrition Facts Per serving 0 g
Amount % Daily Value
Calories 430
Fat 4.5 g 7%
Saturated .5 g
Trans 0 mg
Cholesterol 180 mg 0%
Sodium 1430 mg 60%
Carbohydrate 77 g 26%
Fiber 4 g 16%
Sugars 36 g
Protein 24 g
Personal notes