Recipe pictures
You're cooking one of our recipes? Share the pictures of your culinary masterpiece on our website for a chance to win an awesome apron from Recipes Quebecoises. There will be a draw every month.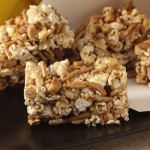 Click to enlarge
Ingredients
2 Cup Chow Mein Noodles (2 cups = 4 oz)
1 Tablespoon toasted sesame oil
1 bag (80 g each) Orville Redenbacher's® Smart Pop!® Buttery Flavour Microwave Popcorn
3 *serving PAM® Original No-Stick Cooking Spray
1/2 Cup dry roasted peanuts, chopped
1/2 Teaspoon ground red pepper
1 Cup dark corn syrup
Preparation
Preheat oven to 300°F. Prepare popcorn according to package directions. Remove all unpopped kernels. Place popped corn, chow mein noodles and peanuts in large bowl.
Place corn syrup in small saucepan. Bring to a boil over medium-high heat, stirring occasionally. Continue to cook 3 minutes, stirring constantly. Stir in sesame oil and red pepper; mix well. Pour over popcorn mixture. Stir with spoon sprayed with cooking spray, until popcorn mixture is coated evenly. Transfer to 13x9-inch baking dish sprayed with cooking spray. Press down popcorn mixture using back of spoon.
Bake 20 minutes. Cool 10 minutes before cutting into 18 squares. Store in tightly sealed container up to 3 days.
Cook commentary
Serves:18 servings (1 square each)
Prep Time:10 minutes
Cooking Time:40 minutes

*Crunchy popcorn bars, with a spicy-sweet flavor, made with peanuts and chow mein noodles for crunch.
Personal notes