Garlicky Basil Chicken in Mushroom Caps
Print
Category
Mushrooms
Thematic No thematic
Source Chicken Farmers of Canada
Evaluation
☆
☆
☆
☆
☆
Recipe pictures
You're cooking one of our recipes? Share the pictures of your culinary masterpiece on our website for a chance to win an awesome apron from Recipes Quebecoises. There will be a draw every month.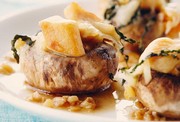 Click to enlarge
Ingredients
2 packages mushrooms, whole, fresh (8 oz -225 g each)
1 lb (0.5 kg) chicken breast, boneless, skinless
3 tbsp (45 mL) butter
3 tbsp (45 mL) olive oil
6 garlic, cloves, minced
1/2 cup (125 mL) white wine, dry
1/4 tsp (1.25 mL) salt
2 cups (500 mL) mozzarella cheese, 16.5% MF, shredded
1/4 cup (60 mL) basil, fresh, chopped
Preparation
Preheat oven to 350°F (180°C).
Wash mushrooms. Remove stems being careful not to break the caps. I use my hands. Chop stems and set aside. Place caps in larger baking dish or a few deep dish pie plate that will fit all the caps. You don't need to oil the dish.
Cut chicken into 1/2 inch (1.25 cm) pieces. Set aside.
Melt butter in skillet over medium heat. Add olive oil and minced garlic, stir and sauté a few minutes until the garlic is fragrant.
Add chicken pieces and white wine and stir well. Sauté, stirring occasionally, for 5 minutes. Turn heat off.
Use a teaspoon to place chicken pieces in each of the mushroom caps. If there are extra chicken pieces they can be placed around caps. Sprinkle reserved chopped mushroom stems around mushroom caps as well. Pour pan juices over. Top with a sprinkle of salt and the grated cheese. Sprinkle with the minced basil.
Bake in preheated oven for 30-45 minutes until the mushrooms have released their liquid and the cheese is lightly browned.
Serve in baking pans with your favourite bread to mop up the garlicky wine juices.
Cook commentary
Serves:6
Prep Time:20 mins
Cook Time:45 mins

*Sprinkle an additional 1/4 cup (60 mL) fresh shredded parmesan or Asiago on top of the mozzarella cheese.

*The method for the recipe is more important than exact measurements.

*Nutrition Info
Garlicky Basil Chicken in Mushroom Caps
Per 200 g serving
Amount
Calories 330
Protein 29 g
Fat 20 g
Saturated Fat 9 g
Carbohydrate 6 g
Fibre 1 g
Sugar 2 g
Cholesterol 80 mg
Sodium 380 mg
Per 200 g serving
% Daily Value
Potassium 18
Calcium 25
Iron 4
Vitamin A 4
Vitamin C 4
Vitamin B6 32
Vitamin B12 34
Folate 11
Magnesium 16
Zinc 29
Personal notes