Recipe pictures
You're cooking one of our recipes? Share the pictures of your culinary masterpiece on our website for a chance to win an awesome apron from Recipes Quebecoises. There will be a draw every month.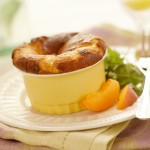 Click to enlarge
Ingredients
1/3 cup (75 mL) finely chopped, toasted walnuts
melted butter for greasing ramekins
4 large eggs, separated
1/4 tsp (1 mL) cream of tartar
3 tbsp (45 mL) butter
1/4 cup (50 mL) Robin Hood® All Purpose Flour
2/3 cup (150 mL) milk
1/4 tsp (1 mL) ground cinnamon
2 cups (500 mL) shredded Gruyère cheese
2/3 cup (175 mL) Smucker's® Pure Apricot Jam
pinch of salt
Preparation
Preheat oven to 350? F (175? C). Generously brush the insides of 8 - 6 oz ramekins with melted butter and dust with toasted walnuts. Place on baking sheet. Meanwhile, beat egg whites and cream of tartar in bowl of electric mixer until stiff. Set aside.
Melt the butter in a medium saucepan. Whisk in flour and cook, stirring until smooth, about 1 minute. Add milk and cinnamon, whisking until smooth and bring to a boil over medium high heat, stirring until thickened, about 2 minutes. Remove from heat and add cheese, stirring until almost melted. Some shreds will remain. Mix in egg yolks, jam and salt. Fold into beaten egg whites. Spoon into prepared ramekins.
Bake in preheated oven about 35 - 40 minutes or until a toothpick inserted in centre comes out almost dry. To serve, line individual serving plates with a napkin and place hot ramekin directly on top. Serve immediately.
Cook commentary
Prep Time: 30 minutes
Cook Time: 3 minutes
Freezing : not recommended
Makes: 8 servings

*Note:If you don't have ramekins, glass oven-proof custard cups would work as well.

*These delicious and light-tasting soufflés would be great served for brunch with a green salad, or can also be dusted with icing sugar and served as an elegant dessert. To ensure soufflé success, have all the ingredients prepared and measured out prior to beginning.
Personal notes