Recipe pictures
You're cooking one of our recipes? Share the pictures of your culinary masterpiece on our website for a chance to win an awesome apron from Recipes Quebecoises. There will be a draw every month.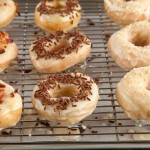 Click to enlarge
Ingrédients Doughnuts
1 pound homemade pizza dough
Vegetable oil, for frying doughnuts
Maple sugar, chocolate sprinkles, crumbled cooked bacon, for garnishing
Maple-Glazed
3 cups icing sugar
1/3 cup milk
Pinch salt
1 tbsp. vanilla
1/2 cup pure maple syrup
2 tsp. maple extract (optional)
Preparation Maple Glaze
Bring pizza dough to room temperature. Let dough rise at room temperature, about 20 to 30 minutes.
Roll out pizza dough to 1/4-inch thickness. Using 3 1/2 inch round cookie cutter, cut out doughnuts. Using 1-inch round cookie cutter, cut centres out of each doughnut for doughnut holes. Re-roll dough scraps, letting rest as needed and cut out more doughnuts. (Makes about 9 doughnuts and 9 doughnut holes, 12 of each, if you re-roll the scraps).
If you fry the doughnuts immediately, the final texture will have a slight chew. For a lighter and fluffier doughnut, let the doughnuts rise, until doubled, about 20 to 30 minutes.
Pour oil into a saucepan to reach a depth of 3-inches. Heat oil to 375 degrees F. over medium heat.
In batches, carefully add doughnuts and doughnut holes to hot oil. Turning once, fry doughnuts until golden brown, about 1 to 2 minutes on each side. Transfer to paper towels to remove excess oil.
Maple Glaze
Combine icing sugar, milk, salt, vanilla, maple syrup and maple extract. For a thicker glaze, add more icing sugar, for a thinner glaze, add more milk.
Cook commentary
Yield: 9 to 12 servings.
Dip doughnuts in Maple Glaze. Garnish with maple sugar, chocolate sprinkles or crumbled bacon. Serve warm.
Personal notes