Chinese Plum Sauce
Print
Category
Asian sauce
Thematic No thematic
Source Recettes Quebecoises
Evaluation
☆
☆
☆
☆
☆
Recipe pictures
You're cooking one of our recipes? Share the pictures of your culinary masterpiece on our website for a chance to win an awesome apron from Recipes Quebecoises. There will be a draw every month.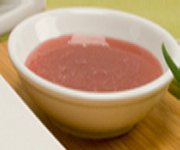 Click to enlarge
Ingredients
8 cups halved pitted plums, (3 lb/1.5 kg)
1 cup chopped onions
1 cup water
1 tsp minced gingerroot
1 clove garlic, minced
3/4 cup granulated sugar
1/2 cup rice vinegar or cider vinegar
1 tsp ground coriander
1/2 tsp salt
1/2 tsp cinnamon
1/4 tsp cayenne pepper
1/4 tsp cloves
Preparation
In large heavy saucepan, bring plums, onions, water, ginger and garlic to boil over medium heat; cover, reduce heat to low and simmer, stirring occasionally, until plums and onions are very tender, about 30 minutes.
Press through food mill or sieve and return to clean pan; stir in sugar, vinegar, coriander, salt, cinnamon, pepper and cloves. Bring to boil, stirring; reduce heat to low and simmer until mixture reaches consistency of applesauce, about 45 minutes. Fill and seal jars; process in boiling water bath for 30 minutes.
Personal notes