Recipe pictures
You're cooking one of our recipes? Share the pictures of your culinary masterpiece on our website for a chance to win an awesome apron from Recipes Quebecoises. There will be a draw every month.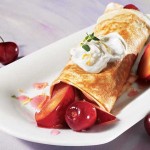 Click to enlarge
Ingredients
125 g (1/2 package) light cream cheese at room temperature
75 mL (1/3 cup) lemon 8% M.F. Mediterranean-style yogurt
60 mL (1/4 cup) honey
5 mL (1 tsp.) finely chopped fresh thyme
4 red plums sliced into eighths
4 pluots sliced into eighths
24 pitted cherries, halved
4 store-bought crêpes
To taste, fresh thyme leaves (optional)
To taste, lemon zest
Preparation
In a bowl, combine cream cheese, yogurt, 15 mL (1 tbsp.) honey, and thyme. Cover bowl with plastic wrap and reserve in refrigerator.
In a skillet over medium-high heat, boil remaining honey for 1 minute. Add plum and pluot slices, and cherries. Cook for 1 minute, gently stirring to coat all the fruit well with honey. Reserve.
Heat crêpes according to package instructions.
Place one crêpe on a work surface and spoon one quarter of fruit topping onto the bottom third of the crêpe.Roll up crêpe and place on a serving plate with the seam down.
Repeat with three remaining crêpes.Top each with cheese mixture. Sprinkle with fresh thyme leaves and finely grated lemon rind, if using.
Cook commentary
Preparation time: 15 minutes
Cooking Time: 2 minutes
Serves: 4 portions
Variation: Replace lemon yogurt with 75 mL (1/3 cup) plain Mediterranean-style yogurt, 30 mL (2 tbsp.) lemon pulp and 30 mL (2 tbsp.) honey. To obtain lemon pulp: cut the two ends off a lemon. Stand fruit on one end and, using a knife, carve off peel and all the white pith. Remove segments by sliding the knife blade along membranes; finely chop each segment.
Personal notes