Recipe pictures
You're cooking one of our recipes? Share the pictures of your culinary masterpiece on our website for a chance to win an awesome apron from Recipes Quebecoises. There will be a draw every month.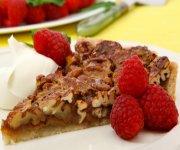 Click to enlarge
Ingredients
3 eggs
1 cup (125 mL) packed brown sugar
1/2 cup (125 mL) corn syrup
1/4 cup (50 mL) bourbon or rye whisky
2 tbsp (25 mL) butter, melted
1/2 tsp (2 mL) cinnamon
1/4 tsp (1 mL) ground nutmeg
1/4 tsp (1 mL) ground cloves
1/4 tsp (1 mL) ground allspice
1-1/2 cups (375 mL) pecan halves
2 tbsp (25 mL) corn syrup, warmed
Preparation
In bowl, whisk together eggs, brown sugar, corn syrup, bourbon, butter, cinnamon, nutmeg, cloves and allspice; stir in pecans. Scrape filling into prepared tart shell. Bake in bottom third of 375°F (190°C) oven, shielding edge with foil if browning too much, until pastry is golden and filling is just firm to the touch, about 45 minutes. Brush filling with corn syrup; let cool.
Cook commentary
Servings: 12
Personal notes