Marmalade Soy Chicken Wings
Print
Category
Wings
Thematic No thematic
Source Chicken Farmers of Canada
Evaluation
☆
☆
☆
☆
☆
Recipe pictures
You're cooking one of our recipes? Share the pictures of your culinary masterpiece on our website for a chance to win an awesome apron from Recipes Quebecoises. There will be a draw every month.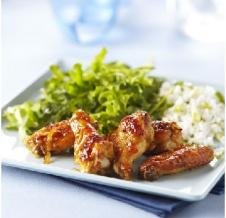 Click to enlarge
Ingredients
24 chicken wings
1/2 cup (125 mL) orange marmalade
2 tbsp (30 mL) rice vinegar
1 tbsp (15 mL) low-sodium soy sauce
1 tbsp (15 mL) garlic, minced
1 tbsp (15 mL) lime juice
1/4 tsp (1.25 mL) cayenne pepper
Preparation
Preheat oven to 425°F (220°C).
Cut off wing tips. You can save them for stock or discard. Cut wings into two by separating at the joint.
Mix together marmalade, vinegar, soy sauce, minced garlic, lime juice and cayenne. Place marinade and wings in a plastic resealable bag and seal. Coat evenly by moving wings around in the bag. Marinate wings in refrigerator for at least an hour or preferably overnight.
Spray a baking pan with vegetable oil spray and spread wings out on tray.
Pour marinade from bag into saucepan and bring to a boil. Gently boil marinade for a couple of minutes. Use cooked marinade for basting wings.
Roast wings until skin is crispy and brown, about 40 to 50 minutes. Baste after 15 minutes and 3 more times until fully cooked through, the juices run clear when pierced, and reads 165°F (74°C) on a meat thermometer. Remove from oven and serve.
Cook commentary
Serves: 6
Cook Time: 50 mins

*Chicken wings are a popular favourite with both kids and adults. They are high in fat and calories so enjoy them as an occasional treat as part of your overall healthy diet. Serve wings with sticky Japanese short grain rice and a green salad.

*Nutrition Info
Marmalade Soy Chicken Wings
Per 235 g serving
Amount
Calories 520
Protein 36 g
Fat 32 g
Saturated Fat 9 g
Carbohydrate 20 g
Fibre 0 g
Sugar 18 g
Cholesterol 150 mg
Sodium 250 mg
Per 235 g serving
% Daily Value
Potassium 9
Calcium 4
Iron 10
Vitamin A 6
Vitamin C 4
Vitamin B6 39
Vitamin B12 31
Folate 5
Magnesium 15
Zinc 29
Personal notes