Blueberry Yogurt Muffins
Print
Category
Blueberries
Thematic No thematic
Source Mireille10
Evaluation
★
★
★
★
★
Recipe pictures
You're cooking one of our recipes? Share the pictures of your culinary masterpiece on our website for a chance to win an awesome apron from Recipes Quebecoises. There will be a draw every month.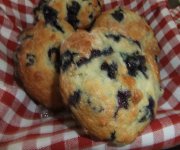 Click to enlarge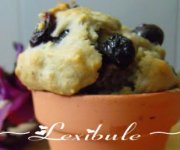 Click to enlarge
ingredients
2 1/2 cups of flour
3/4 cup granulated sugar
2 c. teaspoon baking powder
1 c. teaspoon soda powder
1/2 teaspoon salt
1/2 cup butter
1 cup of fruit yogurt (any type of fruit will do)
2 lightly beaten eggs
2 teaspoon grated orange zest
1 1/4 cups blueberries (or any other types of berries) fresh or frozen, well drained
Preparation
In a bowl, stir flour, sugar, baking powder, baking soda and salt. Add butter, using a knife, cut into small pieces to make it look like fine breadcrumbs.
In another bowl, mix the eggs with the orange zest and yogurt. Mix all at once with the first preparation. Stir just until dry ingredients are moistened.
Delicately add the blueberries. Spoon evenly into 12 large muffin cups (paper-lined or greased). Bake at 400F degrees for 20 minutes in center of oven.
Cook commentary
Preparation: 10 minutes
Baking time: 20 minutes
Portions: 12
From : Lexibule35
Picture: Lexibule35
* Note: I switch sugar for Splenda and used some fresh blueberries. Next time, I will add some yogurt or some milk to liquefy the batter since I found it was a little too thick. They are still frankly delicious!!
Last update: 29/8/2011
Personal notes
All comments (3)

J'ai refait cette recette pour la deuxième fois. Comme je venais de terminer des muffins aux pêches et il me restait du yogourt aux pêches et du jus de pêches. parce que j'ai pris des pêches en boîte. Quel beau mélange.

Je viens de faire cette recette. Le goût est excellent. Lexibule a mentionné que c'est trop épais c'est exact. Obligatoirement la recette devrait au point de départ avoir 2 tasses de farine si on conserve la quantité de liquide. J'ai du ajouter du liquide, du jus d'orange . J'ai ajoutée 2 tasses de bleuets et c'était pas trop.
Surement une recette a refaire, assurément. J'avais aussi des bleuets frais.

Avec ce joli fruit qui est en abondance dans les marchés, j'ai eu envie de nous faire de délicieux muffins!! Inutile de vous dire combien ils sont irrésistibles et encore plus quand ils sont un brin encore tiède

Note: J'ai changé le sucre contre du splenda et j'ai utilisé des bleuets frais. La prochaine fois j'ajouterai un peu plus de yogourt ou de lait pour liquifier un peu plus la pâte car le mélange de pâte est beaucoup trop épais. Ils sont tout de même franchement délicieux!! xxx