Indian Dhal (crock pot)
Print
Category
Leguminous
Thematic No thematic
Source Je cuisine
Evaluation
☆
☆
☆
☆
☆
Recipe pictures
You're cooking one of our recipes? Share the pictures of your culinary masterpiece on our website for a chance to win an awesome apron from Recipes Quebecoises. There will be a draw every month.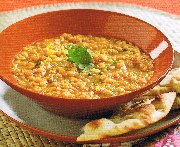 Ingredients
500 ml (2 cups) lentils coral (red)
30 ml (2 tablespoons c) canola oil
1 onion, chopped
30 ml ( 2 tablespoons) chopped garlic
10 ml (2 Teaspoon) chopped ginger
5 ml (1 c teaspoon) turmeric
2.5 ml (2 Teaspoon) cumin
1 liter (4 cups) chickenl broth
salt and pepper to taste
15 ml (1 tablespoon chopped coriander
preparation
Rinse the lentils under cold water and drain them. In a frying pan. Heat oil over medium heat. Do come back the onion with garlic, ginger, turmeric and cumin two or three minutes while stirring.
Place all ingredients in crock pot except the cilantro. Mix and cover. Let cook on low for six to eight hours or on high for three to four hours. Just before serving, garnish each serving of cilantro
Cook commentary
6-8 servings
Preparation time: 20 minutes
no doubt, the presence of turmeric, cumin and coriander confirms the origin of Indian dhal. This romantic Classic dishes based lenses corail bewitches nostrils and tastebuds. When we want to eat vegetarian, it acts a recipe indicated. The dhal is used both in soups, main dish that accompany a meat curry. Offer dhal with naan bread, this bread is typical of Indian cuisine at slightly smoky taste.
Personal notes