Recipe pictures
You're cooking one of our recipes? Share the pictures of your culinary masterpiece on our website for a chance to win an awesome apron from Recipes Quebecoises. There will be a draw every month.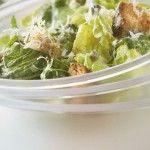 Click to enlarge
Homemade croutons
2 to 3 slices whole wheat bread
30 ml vegetable oil
Pinch salt
Pinch pepper
1 clove garlic, minced
2 ml paprika
2 ml Parmesan, grated
Caesar dressing
1 clove garlic, chopped
10 ml capucine capers
10 ml Dijon mustard
Pinch salt
Pinch pepper
2 ml lemon juice
45 ml vegetable oil
5 ml Parmesan cheese, grated*
10 ml plain yogurt
½ romaine lettuce, medium
Homemade croutons
Preheat oven to 350°F (180 °C). Cut bread slices into cubes. Combine all other ingredients in a big bowl. Add bread cubes and toss to coat. Bake for 10 to 15 minutes, or until bread is dry. Let cool and set aside
Caesar dressing
Finely mince garlic and capers. In a small bowl, whisk Dijon mustard, salt, pepper, lemon juice, garlic and capers. Gradually whisk in oil in a thin stream until mixture is creamy. Beat in Parmesan and yogurt at the end of the recipe.
Caesar Salad: In a big bowl, combine torn Romaine lettuce leaves with croutons and dressing and toss to coat. Serve.
Cook commentary
5 Servings
Personal notes