Greek-Style Puff Pastry Triangles with Feta Cheese, Spinach and Dates
Print
Category
Spinach
Thematic No thematic
Source IGA
Evaluation
☆
☆
☆
☆
☆
Recipe pictures
You're cooking one of our recipes? Share the pictures of your culinary masterpiece on our website for a chance to win an awesome apron from Recipes Quebecoises. There will be a draw every month.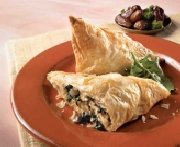 Ingredients
10 ml (2 tsp.) Compliments olive oil
1 small onion, finely chopped
2 packages (171 g/6 oz. each) spinach, washed and stemmed
80 ml (1/3 cup) parsley, finely chopped
60 ml (1/4 cup) milk
200 g (7 oz.) Greek feta cheese
Lemon zest
60 ml (1/4 cup) dates, pitted and chopped
2 eggs, beaten
15 ml (1 tbsp.) Compliments butter, melted
8 sheets Compliments phyllo pastry
Pepper to taste
Preparation
Heat oil to medium-high in a large, nonstick pan. Add onion and fry for 2 minutes or until translucent. Reduce heat to medium. Add spinach, cover and cook for 5 minutes or until wilted. Work in batches if necessary.
Remove from heat. Add parsley and 30 ml (2 tbsp.) of milk. Combine and let cool. Add feta cheese, lemon zest, dates and eggs. Pepper to taste. Mix thoroughly. Set aside.
Combine melted butter with remaining milk. Place a sheet of phyllo pastry on a flat work surface. Brush both sides with melted butter, then layer with a second sheet. Brush again with butter. Add two more sheets, brushing with butter after each addition. Cut stack of phyllo pastry sheets in half lengthwise. Place one-quarter of filling at one end of each pastry strip. Starting from the corner, fold each strip over into a triangle and firmly seal in filling. Repeat folding until you reach the end of the strip (follow instructions on Compliments phyllo pastry box). Repeat with remaining phyllo pastry sheets to make two more puff pastries.
Preheat oven to180°C (350°F). Place puff pastries on a lightly greased baking sheet. Bake on middle rack for about 25 minutes or until crust is golden.
Cook commentary
Serves: 4 servings
Accompaniment: Serve with olives and a legume salad.
Personal notes