MIDDLE EASTERN chicken meal-soup
Print
Category
Chicken and Turkey
Thematic No thematic
Source IGA
Evaluation
☆
☆
☆
☆
☆
Recipe pictures
You're cooking one of our recipes? Share the pictures of your culinary masterpiece on our website for a chance to win an awesome apron from Recipes Quebecoises. There will be a draw every month.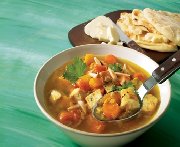 Ingredients
5 mL (1 tsp.) olive oil
1 onion, finely chopped
2 garlic cloves, finely chopped
15 mL (1 tbsp.) each: freshly grated gingerroot and curry paste
2 mL (1/2 tsp.) each: cumin, ground coriander and turmeric
2 L (8 cups) reduced-sodium chicken broth
375 mL (1 1/2 cups) each: cubed carrots and turnip
125 mL (1/2 cup) each: grated sweet potato and parsnip
75 mL (1/3 cup) dried red lentils, rinsed
375 g (3/4 lb) boneless, skinless chicken breasts, cooked and cubed
Salt and pepper to taste
Fresh lemon juice, fresh coriander leaves and toasted slivered almonds for garnish
preparation
In a large saucepan, heat the oil over medium heat; add onion and garlic and cook for 5 minutes, or until onion is translucent. Add ginger, curry paste, cumin, coriander and turmeric. Cook, stirring, for 3 minutes. Add a little chicken broth if the mixture begins to stick to the pan.
Add remaining chicken broth, carrots, turnip, sweet potato, parsnip, lentils and chicken to the pan. Bring to a boil and reduce heat to medium-low; simmer, covered, for 20 minutes or until lentils are cooked and vegetables are tender. Season with salt and pepper to taste. Garnish each bowl of soup with a dash of fresh lemon juice, coriander leaves and toasted almonds.
Serve with naan bread and haloumi cheese.
Cook commentary
Serves: 6
Variation: For a vegetarian version of the soup, replace chicken by a tin of chick peas, rinsed and drained.
per 1 serving% Daily ValueAmountCalories 2205%Fat 3 g5%Satured 1 g
+ Trans 0 g Cholesterol 55 mgSodium 970 mg7%Carbohydrate 20 g12%Fibre 3 g Sugars 5 gProtein 28 g40%Vitamin A10%Vitamin C6%Calcium15%Iron
Personal notes