Recipe pictures
You're cooking one of our recipes? Share the pictures of your culinary masterpiece on our website for a chance to win an awesome apron from Recipes Quebecoises. There will be a draw every month.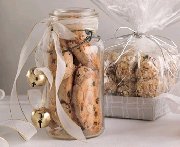 ingredient
500 mL (2 cups) all-purpose flour
7 mL (1½ tsp.) baking powder
175 mL (¾ cup) granulated sugar
60 mL (¼ cup) unsalted butter
1 egg
125 mL (½ cup) milk
5 mL (1 tsp.) vanilla extract
175 mL (¾ cup) dried blueberries
175 mL (¾ cup) unsalted blanched almonds
Preparation
Preheat oven to 180°C (350°F). Place a sheet of parchment paper on a baking sheet.
Combine flour, baking powder and sugar in a food processor. Add butter and mix until crumbly. Add egg, milk and vanilla extract. Mix again. Place dough in a bowl and knead with hands, adding blueberries and almonds. Make two rolls 25 cm (10 in.) long.
Place on baking sheet. Bake for 35 minutes on middle rack. Remove from oven and let cool for 20 minutes. Slice diagonally into 2 cm (¾ in.) slices using a sharp bread knife. Place slices on same baking sheet and bake again at 180°C (350°F) for 25 minutes. Turn halfway through cooking. Let cool on a rack.
Cook commentary
Serves : 20 servings
Variations: Feel like trying some new flavours? Replace the almonds and blueberries with
- Pieces of dark chocolate and pistachios
- Dried apples and cinnamon
- Pieces of white chocolate and orange zest
- Anything delicious that inspires you
Personal notes