Salmon and spinach stack
Print
Category
Salmon fillets
Thematic No thematic
Source IGA
Evaluation
☆
☆
☆
☆
☆
Recipe pictures
You're cooking one of our recipes? Share the pictures of your culinary masterpiece on our website for a chance to win an awesome apron from Recipes Quebecoises. There will be a draw every month.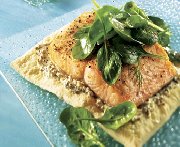 ingredient
1/2 pkg. (200 g) commercial frozen puff pastry, thawed
30 mL (2 tablespoons) fresh cheese such as Boursin Garlic and Fine Herbs,
15 mL (1 tablespoon) old-fashioned mustard
15 mL (1 tablespoon) Compliments olive oil
2 salmon fillets, weighing approx. 170 g each
Pepper, to taste
Spinach salad
5 mL (1 teaspoon) Compliments whole grain Dijon prepared mustard
15 mL (1 tablespoon) Compliments olive oil
15 mL (1 tablespoon) lemon juice
5 mL (1 teaspoon) honey
1 garlic clove, finely chopped
5 mL (1 teaspoon) finely chopped fresh dill
1/2 pkg. (71 g) baby spinach leaves
Salt and pepper to taste
Preparation
Preheat oven to 200ºC (400ºF). On a floured work surface, roll out puff pastry as thin as possible into a large rectangle. Divide pastry in half to make two rectangles the size of the salmon fillets. Prick the pastry all over and place on a baking sheet. Bake on the lowest oven rack for 15 minutes, or until golden. Remove from oven and allow to cool. Reduce oven temperature to 180ºC (350ºF).
Spinach salad
In the meantime, blend cheese and mustard in a small bowl. Reserve.
Heat oil over medium-high heat in an ovenproof skillet. Season salmon fillets with pepper and sear for 1 minute on each side. Transfer skillet to the oven and bake salmon for about 8 minutes, or until just barely opaque.
In the meantime, whisk together old-fashioned mustard, olive oil, lemon juice, honey, garlic and dill in a large bowl. Add baby spinach leaves and season with salt and pepper. Combine well and reserve. Spread cheese mixture onto each rectangular crust and top with a salmon fillet. Garnish fillets with spinach salad. Enjoy!
Cook commentary
Serves : 2 servings
Variation: Replace garlic with French shallot and add a few slices of strawberry.
Tip: Prepare the pastry rectangles beforehand to save time.
Aide-gourmet Tip: Did you know that omega-3 fatty acids may be beneficial to heart health? They thin the blood, promote the lowering of bad cholesterol levels and help control blood pressure. The main sources of omega-3 are fatty fish such as salmon, tuna and mackerel. Enjoy them more often!
Personal notes