Chocolate Ginger Tart, Pear Juice Crème Anglaise
Print
Category
Chocolate
Thematic No thematic
Source Pâtisseries/Mignardises
Evaluation
☆
☆
☆
☆
☆
Recipe pictures
You're cooking one of our recipes? Share the pictures of your culinary masterpiece on our website for a chance to win an awesome apron from Recipes Quebecoises. There will be a draw every month.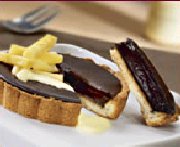 ingredient; Pie Crust
75 g (1/2 cup) icing sugar
180 g (1 cup) flour
Pinch of salt
Zest of one orange
120 g (1/2 cup) softened butter
1 egg
Chocolate Ginger Ganache
125 mL (1/2 cup) heavy cream (35 %)
180 mL (2/3 cup) dark chocolate, in small pieces (pure
Caraibe from Valrhona or other)
1 tsp. fresh ginger, grated
1 egg yolk
1 tsp. unsalted butter
pear juice creme anglaise
1 well-ripened pear
75 mL (1/3 cup) water
80 g (1/3 cup) sugar
125 ml (1/2 cup) heavy cream (35 %)
4 egg yolks
Pie Crust
Combine the icing sugar, flour, salt and orange zest. Add the butter and stir well as for a pie dough. Add the egg and keep 1 hour in the refrigerator. Spread the dough into tart molds or one large pie pan. Bake in the oven at 180ºC (350ºF) until the edges start to brown. Let sit at room temperature.
Chocolate Ginger Ganache: In a saucepan, heat the cream just to the boiling point. Turn off the heat. Add the chocolate and stir well to melt it. Pour into a bowl. Add the ginger, egg yolk and butter. Stir well and pour over the crust. Refrigerate until ready to serve.
pear juice creme anglaise
Peel the pear into small sticks and put aside. Place the peels and leftovers in a saucepan with the water and sugar. Heat just to the boiling point. Filter the syrup into a bowl and add the pear sticks. Let soak about 20 minutes Remove the pear sticks. Combine the syrup with the cream and egg yolks. Put the preparation back into a saucepan over medium heat and stir gently using a wooden spoon until it thickens lightly. Remove immediately from the heat. When the cream coats the spoon, pour into a bowl and place in the refrigerator.
To Serve:Serve the tart with the pear sticks and a little crème anglaise.
Cook commentary
4 Servings
Most recipe books use ground ginger in dessert recipes. Personally, I prefer using fresh ginger. All you have to do is reduce the required quantity by half. What a difference.
Personal notes