Recipe pictures
You're cooking one of our recipes? Share the pictures of your culinary masterpiece on our website for a chance to win an awesome apron from Recipes Quebecoises. There will be a draw every month.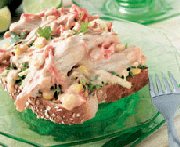 ingredient
1 cup (250 ml) milk
1/2 cup (125 ml) light mayonnaise
2 cloves garlic, minced
1 tbsp (15 ml) packed brown sugar
1 tsp (5 ml) chili powder
1/2 tsp (2 ml) grated lime rind
1/2 tsp (2 ml) salt
1/4 tsp (1 ml) freshly ground pepper
2 tbsp (30 ml) cider vinegar
2 tbsp (30 ml) lime juice
1 lb (500 g) turkey breast cutlets
2 green onions, sliced
1 carrot, shredded
1/2 cup (125 ml) corn kernels, thawed if frozen
1/2 cup (125 ml) shredded jalapeno-flavoured or regular Canadian Monterey Jack or Havarti cheese
4 slices whole grain bread or crusty whole grain rolls
1 tbsp (15 ml) chopped fresh coriander (optional)
Preparation
Preheat barbecue to medium-high or oven broiler. In bowl, whisk milk with mayonnaise, garlic, sugar, chili powder, lime rind, salt and pepper. Gradually whisk in vinegar and lime juice. Let stand for at least 10 min or until thickened.
Meanwhile, grill or broil turkey cutlets for about 3 min per side or until no longer pink inside. Let cool slightly. Using two forks or your hands, shred turkey into small strips.
In large bowl, combine shredded turkey, green onions, carrot, corn and cheese. Pour in dressing and toss to coat. Lightly toast bread, if desired. Evenly spoon on turkey salad. Sprinkle with coriander (if using).
This is one of those recipes you'll pass on to a friend. This dressing is much lighter and fresh tasting than most sandwich salads, making this a great sandwich for lunch or dinner as it includes all four food groups.
Cook commentary
4 Servings
Tips: For the Adventurous:
Add 1 to 2 tsp (5 to 10 ml) chipotle-flavoured barbecue sauce to dressing and top sandwiches with sliced avocado.
Personal notes